Effective June 1, 2022, Bingle Vet will no longer offer this service.
Bingle Vet had experience with helping families transport their pet(s) both domestically and overseas, to locations in Australia, the UK, the EU, South America, Southeast Asia, and many others. If you are traveling and require appropriate documentation for your pet, please contact a local veterinarian to schedule your consultation with an expert to get all of your questions answered. Feel free to call us for a recommendation on a local clinic offering this service. Read on for some basic information on travel do's and don'ts for your pets.
Obtaining Your Pet's International Health Certificate
You can request an international health certificate from a local veterinarian offering this service. We always recommend that you start this process at least 6 months before you plan to travel with your pet. Every country has different requirements; therefore, we want to be sure that everything is in order before you travel. This will give you enough time to get the vaccinations, vaccine titers (if required), possible quarantine, exam and paperwork in order.
A veterinarian who specializes in this service is accredited by the USDA Animal and Plant Health Inspection Service (APHIS). International health certificates for pets are only accepted by foreign nations if they have been filled out by an accredited APHIS veterinarian.
The veterinary team will perform the specific tests and administer the specific vaccinations required by the country you will be visiting. They will record the test results on the international health certificate and the certificate should be dated no more than 10 days prior to your departure.
Your completed international health certificate must be mailed to the USDA Veterinary Services office in Austin for endorsement. USDA endorsement is a requirement on all international health certificates. Once endorsed, it will be returned to you. We recommend using FedEx overnight service.
At the airport, you will be required to submit your international health certificate to the to airline personnel and customs officers.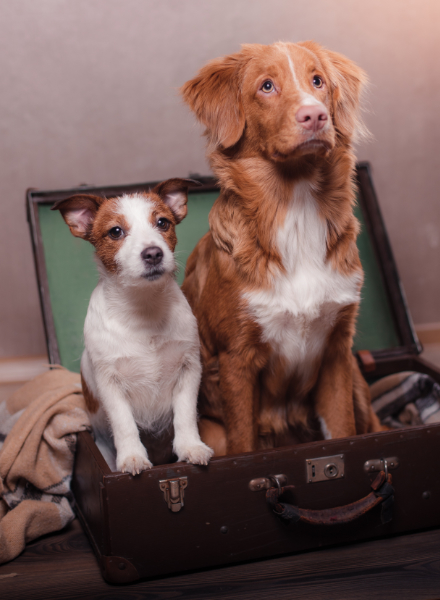 Schedule your pet's travel consultation today.
Documents for travel can take several weeks – plan ahead.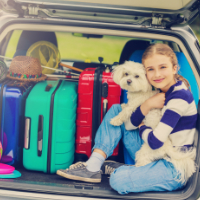 Car Travel
Car travel can require even more preparation. If owners are traveling across state lines, they will want to check out the U.S. State and Territory Animal Import Regulations web site for the latest relevant requirements. Prior to the trip, owners might want to consider having a checklist of items that will be necessary along the way and at their destination. Owners will need to plan for exercise and potty break stops along the way. Cats are best confined to a cage or crate; dogs may be crated or fastened securely with seat belt attachments. This serves the dual purpose of keeping the owner safe (preventing pets from getting underfoot or causing distraction) as well as the pet (preventing jumping out of the car or being flung around if the car swerves or stops suddenly). If the pet has never traveled by car, the owner may want to prepare the pet by taking it along on short trips to acclimate and see how it will respond to car travel.
Airline Travel
For pets traveling by air, it will be necessary for owners to contact the airline well in advance in order to obtain specific regulations. Federal guidelines require pets be at least 8 weeks old and weaned at least 5 days before they can fly. Generally, a health certificate no more than 10 days old will be necessary in addition to a valid rabies vaccination certificate. Consideration should be given as to the weather. If it is hot, flying in the evening or early morning will be best. During cold weather, flights during the day would be preferred. If possible, owners should arrange for nonstop flights and avoid plane changes. Time should be allotted for exercising the pet prior to being placed in a crate for flight. Several major airports have designated areas for walking pets. Owners can contact their local airports for information.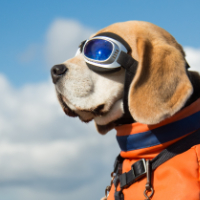 Special Considerations – Anxious pet travelers will need special consideration. For pets traveling by car, very gradual acclimation (starting simply with sitting in a parked car; then driving around the block, and so on) will sometimes help. For those it does not help, medication may be considered. Travel by air is somewhat more complicated – the American Veterinary Medical Association and the American Humane Association do not recommend sedating anxious pets for air travel and caution veterinarians and owners against it. Our veterinarian will need to consult individual owners in these cases. Sometimes, leaving the pet home with a pet sitter or in a boarding facility is the best option for these animals. Cats, in particular, are notoriously poor travelers and are generally better off left out of travel plans, unless the owner is moving.
Another potential problem for traveling pets is motion sickness. Approximately 17% of dogs suffer from motion sickness as reported by owners. When acclimation does not help, medication for these pets may be considered. Antihistamines, such as the over-the-counter drugs diphenhydramine and dimenhydrinate, have often been used in such cases but have variable efficacy and can be sedating. Cerenia (maropitant citrate), a non-sedating medication for the prevention of motion sickness in dogs, has been recently approved and is another alternative.
Preventive Health Measures – All pets should have a current health assessment prior to travel. If a health certificate is necessary, this should be done within 10 days of travel. Vaccinations, including for rabies, should be up-to-date and owners should carry proof of vaccination with them. If travel plans include a different geographic region, additional preventive health measures may need to be taken, depending on the destination. Dogs or cats that are not currently on heartworm preventative may need to start it, if traveling to a high-risk area. The need for flea and tick control should also be assessed for pets not currently using any. Additional vaccination might be considered, again depending on the destination. For dogs traveling to Lyme-endemic areas, Lyme vaccination might be considered, or Bordetella vaccination may be necessary if a dog is going to be kenneled sometime during the trip. Vaccinations (with the exception of intranasal Bordetella) that are not a part of a pet's usual regimen should be completed at least 2 weeks prior to travel in order to have time to take effect. Owners should also be prepared for unforeseen pet illness or accidents by carrying a pet first-aid kit, health history, and the contact information for your hospital. A recent photograph of the pet can also be useful should the pet become lost during travel.
Pets with Chronic Illness – In pets with chronic or ongoing illness, specific recommendations will need to be given. For instance, owners of diabetic animals should be advised on storage of insulin, what to do if insulin or syringes become lost during travel, or how to handle a hypoglycemic crisis. Our veterinary team can help make sure you have enough needed medication, and perhaps offer a prescription to carry in the event medications become lost. A health history is particularly important for these pets, including details of the pet's illness, a list of medications (including dose and frequency), and contact information for your hospital. This will enable veterinary teams unfamiliar with the pet to better care for it should an emergency arise during travel.
On the Way – During travel, pets should be kept secure. As mentioned previously, a crate or seat belt attachment should be used when in the car. Dogs should not ride loose in the beds of pickup trucks, nor should they be allowed to hang their heads out of windows. A small pebble that hits the eye at interstate speed can do serious damage, and some dogs may get carried away with something they have seen or smelled and try to jump from moving vehicles.
Owners should use extra care when car doors are opened, as excited or anxious pets may try to bolt. During rest breaks, dogs should remain on leashes to reduce the risk of running into traffic or getting lost. Both collar name tags and permanent identification (i.e. HomeAgain microchip) should be used for traveling pets. Lastly, pets should NEVER be left in a warm car, whether or not the windows are left open. We recommend that owners use drive-through windows or picnic at rest stops rather than stop at roadside restaurants and leave pets in the car.
While There – Once owners have arrived at their destinations, they will need to remain diligent about their pet(s)'s safety. If staying at a hotel, owners should place a "Do Not Disturb" sign on the door if they are out and the pet is still in the room. Pets will also be safest if kept crated while owners are out. If a dog accompanies an owner out, a leash should always be used – even on hiking trails where an excited dog might run off after the sight or scent of a strange animal. Pets should be prevented from drinking from stagnant ponds or puddles, and strange foods, such as table scraps and drive-through leftovers, should be avoided. In the event of an emergency, owners should keep their hospital's phone number handy and should consider finding the name of a local veterinarian at their place of destination so that it is immediately available if needed. Gastrointestinal upset is probably the most common illness pets experience when traveling. Consider discussing prevention and treatment with owners before they leave for vacation. If owners are staying with friends or relatives, they should know whether their hosts have pets and/or children and whether there is the potential for any problems, preferably when they are in the planning stage of the visit.
ISO Microchips – Bingle Vet offers ISO microchips which are a requirement for international pet travel.
Other Veterinary Services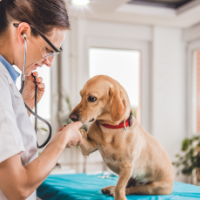 Vaccinations and Wellness
By focusing on preventive health care, you are taking an important step in keeping your friend happy and healthy for years to come.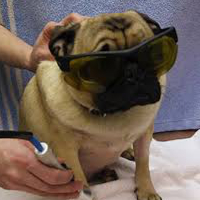 Therapy Laser
The beneficial effects of laser light on tissue were first recognized almost forty years ago. Since then, there have been thousands of studies documenting the positive effects laser light has on different types of cells, tissue, and disorders.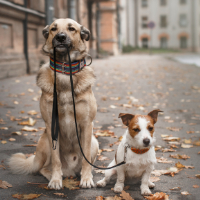 Microchipping
The HomeAgain® Pet Recovery Service is a safe, simple and permanent form of pet identification designed to quickly identify lost pets and reunite them with their owners.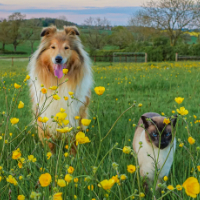 Spaying and Neutering
Female dogs and cats are spayed by removing their reproductive organs, and male dogs and cats are neutered by removing their testicles. In both cases the operation is performed while the pet is under anesthesia.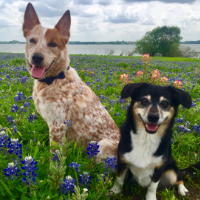 Allergy Testing and Treatment
The most common sign of allergy in dogs and cats is itching, manifested by scratching, rubbing, licking and chewing. The scratching and itching that are due to allergies are always more intense than normal and may lead to varying degrees of hair loss and rashes.
Diet and Nutrition
We offer a variety of veterinary-exclusive therapeutic and wellness diets for better health. Nutrition can help your pet's body recover faster, stay healthy longer and even help defend against health issues.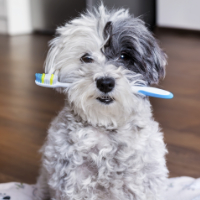 Dental Care
The most common dental problems dogs experience is buildup from plaque and calculus. If left unchecked, plaque and calculus buildup can eventually cause inflammation of both the gums (gingivitis) and the membrane lining of the tooth socket (periodontitis).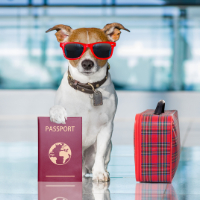 Travel in the US
Currently, Bingle Vet is only offering travel services for pets traveling within the United States.
For compassionate service, call us today!
We understand that your pets are more than just pets, they are family.