Our team is here for you and your pet.
Veterinarians
At Bingle Veterinary Clinic, we have several vets on staff. Our veterinarians are passionate about taking care of animals. They take pride in getting to know our clients and providing the best bedside manner. Come see it for yourself. It is not unusual for our doctors to get down on the floor with the patients.
Our veterinarians are members of several associations, including:
American Veterinary Medical Association
Texas Veterinary Medical Association
Harris County Veterinary Medical Association
Texas A&M Veterinary Foundation
Dr. Robert Vaughan II
Dr. Robert Vaughan graduated from the Texas A&M College of Veterinary Medicine in 1989. After working as an associate veterinarian in Richmond, Texas, for six years, he decided to open his own practice. Bingle Veterinary Clinic was closed for several years before Dr. Vaughan reopened it in September 1995.
With 20 years of experience, Dr. Vaughan has established a strong relationship with many pet owners in the surrounding areas, including Spring Valley and the Memorial Villages. Plus, longtime clients, who have moved out of the area, continue to drive the long distance to see him. Dr. Vaughan continues to devote his time and attention to several rescue groups including, Cocker Spaniel Rescue, Miniature Schnauzer Rescue, Houston Sheltie Sanctuary, Border Collie Rescue of Texas, and Houston Beagle and Hound Rescue.
Dr. Andrew Tesh
Dr. Andrew Tesh has been volunteering or working in veterinary clinics since age 12. In May 2010, he fulfilled his lifelong dream of graduating from Texas A&M with his Doctoral of Veterinary Medicine. His interests include advanced diagnostics, heart health and pain management. He enjoys being a part of the Bingle Vet team.
Dr. Amanda Seemann
Dr. Amanda Seemann is a 2015 graduate of Louisiana State University School of Veterinary Medicine and also completed her Bachelor of Science at LSU. Her passion for veterinary medicine began at an early age learning from her father, who was also veterinarian. Professionally, she is interested in internal medicine, surgery, and critical care.
Although she is a Louisiana native, Dr. Seemann grew to love the Houston area when visiting family members who live in the Energy Corridor. She is joined in Texas by her husband, her whippet, and her two cats. In her free time, she enjoys staying active through long-distance running, yoga, or biking as well as relaxing with a good novel. Dr. Seemann is thrilled to be a part of the Bingle Vet team!
Dr. Harue Takizawa
Dr. Takizawa is originally from Japan and graduated from the University of Tokyo, then recently completed a clinical year at Oklahoma State through the PAVE program. She is excited to start working at Bingle Vet and is interested in working with all kinds of animals. She lives with a grumpy rabbit.
Dr. Lauren Ellender
Dr. Lauren E. Ellender is from New Orleans, LA and received her Bachelor of Science degree in Animal Science from L.S.U. in 1994. Dr. Ellender worked in environmental laboratory analytics prior to her journey through the Ross University School of Veterinary Medicine program in January of 2000. Dr. Ellender has worked in multiple types of facilities including general practice, rescue, emergency rescue, referral, shelter, and advanced 24-hour care hospitals. We are blessed to have her join the team at Bingle Vet.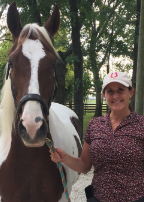 Caroline Vaughan
Hospital Administrator
Caroline Vaughan graduated from Louisiana State University and earned a Master of Science degree in Marketing in 1995. After six years of being a Project Director for a local marketing research firm, she decided to join her husband at Bingle Vet. Over the last 19 years, Caroline's goal has been to create a first-class veterinary practice with a focus on excellent patient care and exceptional service. She believes that a client's visit is all about the experience when they walk in our doors to when they leave. Another extraordinary thing that Caroline implemented was our 10-min Guarantee – she does not believe that clients should have to be waiting a long time before their pet is seen by one of our professionals. She wants her clients to become Raving Fans and to always call if there are ever any problems or concerns. She believes that when you become a client at Bingle Vet you become a part of our family. Her latest accomplishment is building a Veterinary Franchise model – her goal is to bring the veterinary practice back to the doctors.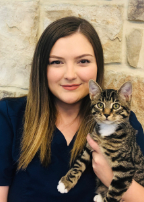 Amie Ruiz
Clinic Administrative Assistant – Katy
Amie is a first timer in the veterinary industry but she was so impressed by her own personal experience that she had to be a part of this amazing team! She has 8 years in the customer service industry and she is a Fur Momma to 2 rescue pups, 2 cats and a horse! Animals have always been a big part of her life and she's so grateful to be in an environment where every day is a new learning experience.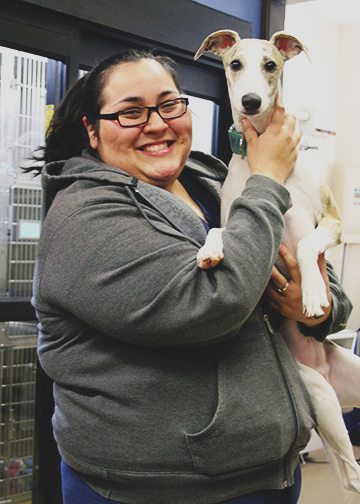 Elena Alfaro
Veterinarian Technician – Team Lead
Elena has a huge heart when it comes to animals. She has three fur-babies: two dogs named Fluffy and Lobo and a rescue cat named Kitty. Animals have been her passion since she was a little girl, so when she got older, she knew that she wanted to go into the veterinary field. Elena recently decided to enroll in school and become a veterinary technician, and she loves every minute of it. She could not be happier.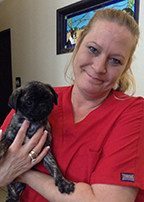 Wendy Boegler
Animal Care Specialist – Team Leader
Wendy has been around animals all her life, so being part of the team at Bingle Vet is perfect for her. She has two dogs of her own, Jack and Sadie, who she adores. Wendy has a very outgoing personality, which makes her a great fit as an Animal Care Specialist because she loves giving clients and guests a great experience with our resort and spa. Her favorite part about being an Animal Care Specialist is the fact that she gets to make guests and their owners feel like they are part of a family when they come to Bingle Vet, whether it's for a spa day or for a stay in our resort!
Veterinary Technicians / Assistants
Ilana Weber
Veterinary Technician
Ilana is originally from Mexico City, so she is bilingual in both English and Spanish. She grew up with cats and is mostly a cat person. At home, she has a Siberian Husky and a calico cat. Ilana graduated from Vet Tech Institute of Houston two years ago. Her dream job was to work with animals – to help them, as they can't talk or care for themselves. She is very passionate about animals and wishes to help them get better and healthier. Every animal that comes in our clinic brightens her day, and she is excited to be part of the Bingle Vet team.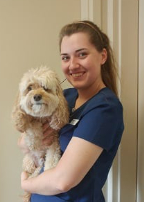 Alison Grigor
Veterinary Technician
Alison has always had a deep love for animals. After studying at Texas Tech University, she has now decided to follow her passion and work with animals. She owns a dog named Cooper. Her favorite part of being on the Bingle Vet team is having the ability to care for others' fur babies.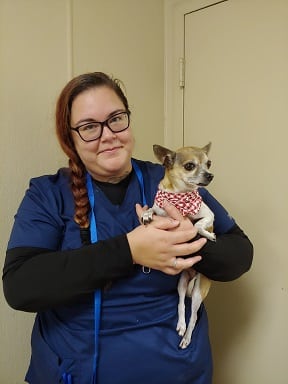 Samantha Rosier
Veterinary Technician
While growing up on a farm, Samantha was always intrigued by animals. Big or small, she loved them all. For as long as she can remember, she has wanted to be a veterinarian and to be the person to help animals. To this day, she has chosen to work in the veterinary medicine industry for this reason.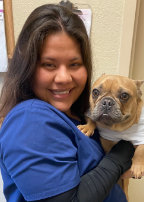 Lizbeth Aguilar
Veterinary Technician
Because of my fur babies Taz, Champi, and Sassy I've always had a passion for animals. A dream of mine is working with not just dogs and cats, but with different species. Working here made me a little bit closer to my dream.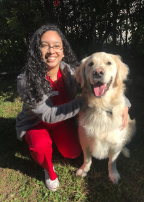 Belen Victoria Calle
Veterinary Technician
Since Victoria was little, she has always said that she was going to be a vet. Now, she is working towards that dream. She has two dogs; Blue a pitbull who is 6 years old and Cash a cane corso who is 2 years old. She loves learning about dogs and their behaviors. On her free time, you can find her watching animal planet or pet training videos for dogs.
Jessica Alvarado
Veterinary Technician
Jessica has always dreamed of one day becoming a Vet. She loves working with animals and has a special place in her heart for them. She is currently a student at Texas State University where she will be majoring in Animal Science. After she graduates, she plans to continue her journey and go to Vet school and pursue her dream of becoming a Veterinarian. As she continues with school, she is striving to gain experience and learn new things that will help her along her career. Jessica owns a Husky named Hazel and a Lab mix named Lisa.
Isabella Sablazos-Moussa
Veterinary Tech Assistant
Bella is 22 years old, born and raised in Texas. She has always loved animals and had dreams of working with them. In the near future, she plans to got back to school to get her veterinary technician license. She currently owns a 3-year old rescue dog named Peaches. Bella wants clients of Bingle Vet to know that we strive every day to make our patients feel at home when they visit our practice.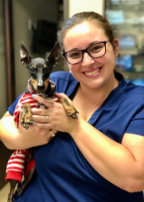 Marijke Smet
Veterinary Technician – Katy
Ever since Marijke was 6 years old, she wanted to be a vet. She graduated from Texas A&M with a Marine Biology degree with hopes of continuing her education into vet school. For now she wants to increase her experience and help as many pets as possible. She owns a Toy Manchester Terrier names Patron and two Min-Pins named Lucy and Kahlua.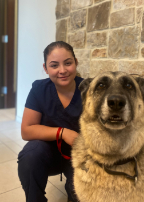 Rachel Silverstein
Veterinary Technician – Katy
Rachel's interest in Veterinary Medicine is to eventually become an Equestrian Vet and own her own Vet and boarding stables. She chose this industry because she have always loved animals and wants to do as much as she can to help them. If Rachel was a client here she claims she would want to know that the employees will be treating my pets as if they were their own as she does. Her favorite thing thus far about working here is being able to see animals all day long.
Pat Johnson
Veterinary Tech Assistant – Katy
Pat's love has always been animals. She graduated from Tuskegee Institute with a BS degree in Animals Science and a MS in Animal Nutrition. She has always worked in the agriculture field with 25 years with the Colorado Department of Agriculture. She has 2 Boston Terrier rescue girls and a 17 lb Russian Blue guy that runs the house (he thinks he does anyway). She is very happy to continue to work with animals and being part of the Bingle Vet Katy Team.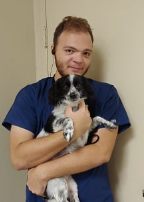 Chris Peake
Animal Care Specialist
Chris' mother made sure that he had compassion for animals from an early age. His family always had pets and often went to local animal shelters to volunteer. His time helping at shelters gave him a deep understanding of the impact of mistreating animals, as well as the importance of pet adoption. He wants our clients to know that the he and all the other members of the Bingle Vet team take their jobs very seriously, and that our clients' pets are in good hands. The Bingle Vet team treats them like family, because they are.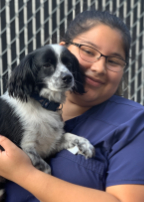 Jazmin Castellon
Animal Care Specialist
As a child, Jazmin always saw herself having a job that dealt with animals. If you asked seven-year-old Jazmin what she wanted to be when she grew up, her answer would be to work at a vet! It didn't matter what position she'd be working in, all she wanted was to be surrounded by animals. Now that she is working at a vet clinic, she is very happy – not just because she gets to work with all the precious dogs and cats – but because she gets to learn and grow in a place where she feels very lucky and comfortable. She's never been a part of a team that was so strong and with a great vision for not just the employees, but for the clients as well. She is learning that Bingle Vet is all about being part of a big family, including the clients, which we grow to have a connection with.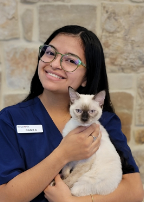 Camila Hernandez
Animal Care Specialist – Katy
Camila has a Husky named Max who is too big for her she claims, but all furry babies need loving and Max is her big boy. She spends time walking the neighborhood with him and brushing his hair that never seems to stop shedding. Other than this Camila likes to spend her time researching good poetry books and making runs to the library. She seeks this career to gain more knowledge in this field of animal care and looks forward to taking care of all our patients here.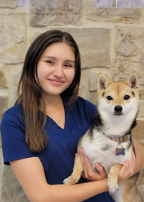 Daniela Marino
Animal Care Specialist – Katy
Daniela always knew she wanted to work with animals since she was 4 years old to be exact. After reading Bingle's Mission Statement and what we stood for she immediately resonated with this company and knew she wanted to be apart of the team. Daniela is currently working to gain as much experience by interning and working at Bingle Vet Katy so she can receive her CVA. In the future she would love to earn her PhD in Veterinary Medicine and continue doing what she loves. Last but not certainly least she has an adorable maltipoo named George that she adores with all her heart!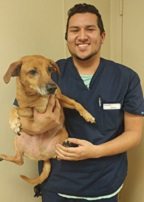 William Diaz
Client Concierge
Ever since elementary school William has had a fascination with animals. He has always had dogs and cats, and at one time owned a hamster. At the moment he owns two dogs that he's very attached to. William chose to work in this industry because animals are a man's best friend, and helping animals in any way in the best joy of all. He chose Bingle Vet as his workplace after his older brother enjoyed the great service and happy environment when bringing his dog in for a visit. He feels that everyone that Bingle Vet is very friendly and kind to one another.
Tammy Sullivan
Client Concierge
Tammy loves animals and her position at Bingle Vet is a new experience for her. She likes all kinds of animals and believes animals are like humans and should be treated as such. If Tammy was a client of Bingle Vet, she would want to know that employees are passionate about their work in the veterinary industry. Her favorite thing about being on the team is just that, being a part of a team that helps improve the life and care of family pets.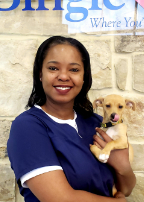 Taneka Handy
Client Concierge – Katy
Taneka is an avid life and animal lover. She enjoys star gazing with her German Shepherd Zeus and taking walks with her Giant Schnauzer Raven. Her passion and love for our furry friends brought her to Bingle Vet Katy. Her experience derives from having her own pets and caring for family, friends and volunteering over the years.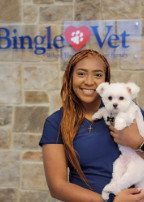 Linda Jimenez
Client Concierge – Katy
Linda was born and raised in Houston, TX. She have two dogs and loves to spend her time outdoors with them. Linda has an 8 yr. old min pin who acts like a puppy and a 10 yr. old terrier mix who acts like a princess, she love them both. She have always been around animals growing up and always had a love for dogs so being able to work in a place where she can assist and work with them daily is a dream. Linda looks forward to working with her team and helping out as many pets as possible.
Interns and Veterinary Students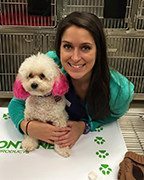 Dr. Victoria Vaughan
Graduate of Ross Veterinary School
Victoria was born in Austin, Texas but grew up in Greenbrier, Arkansas. She has a big heart for animals and has always enjoyed working with her family at Bingle Vet from a young age. In her spare time she loves to take her younger siblings to the zoo, work out at the gym, and run – she is currently training for the Houston Marathon! Victoria received her Bachelor's degree in Biology in May, and is now working full time at Bingle Vet. What she likes most about being part of the team is the positive feeling she gets from being around each and every team member. She also loves being able to interact with clients on a daily basis and build relationships with them, but her favorite thing about working at Bingle Vet is that she truly has the opportunity to make a difference in pets' lives every single day no matter what department she is working with. Her goal is to go to veterinary school to obtain a DVM degree and open a veterinary clinic of her own in the future!
Victoria graduated from veterinary school on May 16, 2020. She has chose to take an internship with a speciality veterinary clinic in Nashville. We wish her all the very best.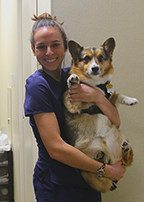 Tatyana Guy
Summer Intern / Texas A&M Student
Tatyana is currently a student at Texas A&M University attending the veterinary program. We are so excited for Tatyana as she continues to focus on her dreams.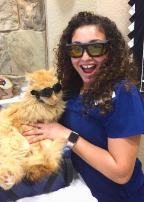 Asucena Ochoa
Summer Intern / Texas A&M Student
Asucena Ochoa went to Texas A&M for her Animal Science undergraduate degree with a minor in Chemistry. She worked with Bingle Vet for a year before going off to Veterinary School at Texas A&M in 2018. She is considering working as a mixed animal practitioner specifically within the dairy industry. She loves all kinds of animals and is excited to continue her veterinary experience.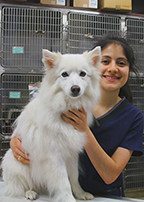 Emerald Rodriguez
Summer Intern / Texas A&M Student
Emerald is currently a student at Texas A&M University and in the process of applying to Texas A&M's veterinary school. She hopes to become a veterinarian in the coming years. She can spend her days assisting clients with their pet's needs. She loves that everyone at Bingle Vet is so friendly and welcoming, and she believes that's why clients also really love this clinic. Emerald has two small dogs and a cat, but in the future she hopes to own a larger breed dog.
Collin Leisz
Summer Intern / Texas A&M Student
Colin has finished his first year at SGU Veterinary School and received his degree in Biomedical Sciences at Texas A&M University. He is excited to get hands-on experience and work for a practice in his home town of Houston. He hops to own his own practice one day. Colin grew up with Italian Greyhounds, lizards, snakes, fish, pigeons and hamsters in his household.
Michelle O'Bert
Summer Intern / Texas A&M Student
Michelle is currently going into her third year of vet school at Texas A&M University. Her passion for veterinary medicine stemmed back from elementary school, when she aspired to work with chimpanzees like Jane Goodall. She loves working with every animal imaginable, but especially enjoys the company of dogs. She has two Standard Poodles named Lilly and Sole, who are great to cuddle with. By working at Bingle Vet, she hopes to give every pet a great vet visit experience.
Rachel St. Martin
Client Concierge – Summer Hire
Ever since she was old enough to remember, she has always want to have a dog because they were her favorite animal. Once she finally got a dog, her love for them only grew stronger. Currently she has two dogs who are apart of her family. Rachel's love for her dogs and dogs in general is why she is interested in the veterinary medicine for the summer.
Brinley Lisman
Veterinary Technician Assistant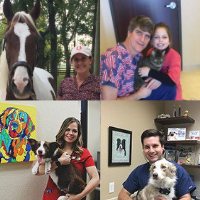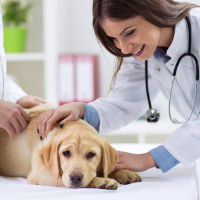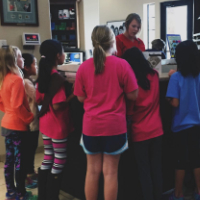 For compassionate service, call us today!
We understand that your pets are more than just pets, they are family.